Protect Your paint for Years With A Car Ceramic Paint Coating
Don't spend another day with unprotected paint. Wax is a product of the past ceramic car coatings protect your car for years and add 10X more gloss. Our professional-grade ceramic coatings keep your car cleaner much longer, increase the lifespan of your paint, & add an unreal gloss. Add a sacrificial layer before it's too late.
Get A Free Quote In Seconds!
About Our Coatings
CERTIFIED IGL COATINGS SPECIALIST
igl coatings brings innovation and science to provide you with modern technology.
All of igl ecoclean range of products are formulated to provide efficient and economical cleaning.

igl coatings offers a variety of coatings for all vehicle surfaces.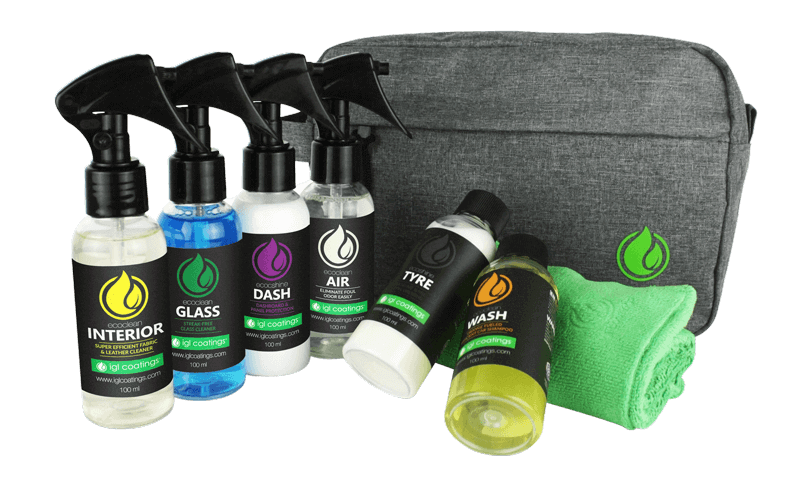 Durability of our coatings range in years, not months like traditional waxes or sealants.
igl coatings bring a new level of ceramic coating automotive protection.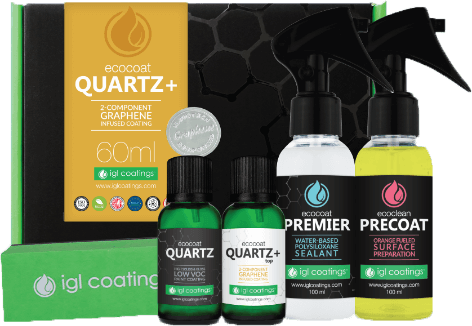 Ecocoat Quartz +
Lifespan: Up to 4 years

Hardness: 9H, reinforced with Graphene

Unique Feature: Offers an impressive balance of durability and performance without long-term commitment.
Up to 4 yrs.
9H Graphene reinforced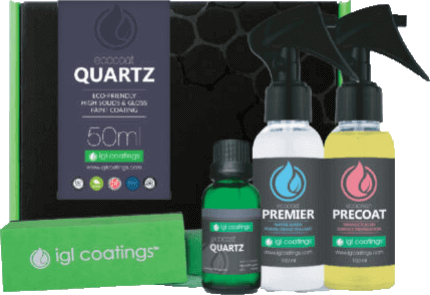 Ecocoat Quartz
Lifespan: Up to 2 years

Hardness: 9H

Unique Feature: Provides a solid, protective layer for your car, ideal for those looking for medium-term solutions with top-quality results.
Up to 2 yrs. 9H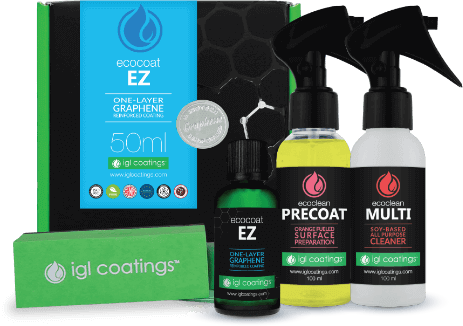 Ecocoat EZ
Lifespan: Up to 1 year

Special Feature: Graphene reinforced, includes treatment for Body, Rims, and Windows.

Unique Feature: An all-inclusive package, ideal for comprehensive protection and a unified aesthetic look.
1 yr. Graphene reinforced, Includes Body, Rims and Windows
We're one of the few certified igl coatings installers in the world.
UNCOMMON AMONGST THE UNCOMMON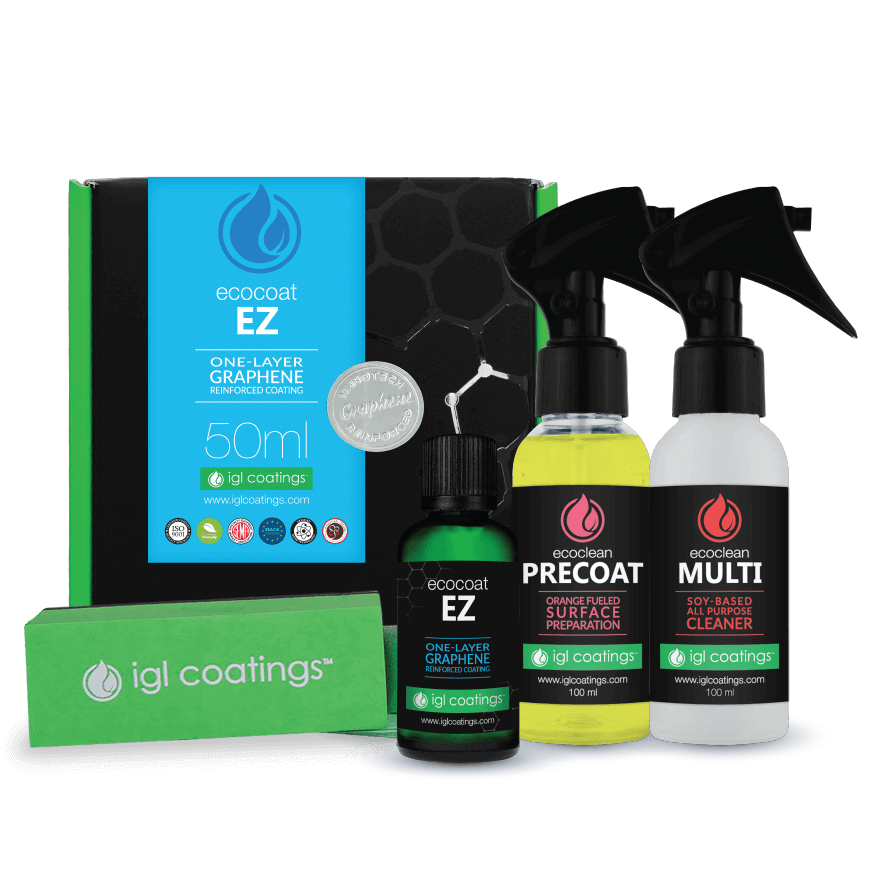 Why Choose Us
Mobile Ceramic Coating Service
In our fast-paced world, convenience is key. That's why we've engineered our ceramic pro coating service to be mobile, meeting your needs wherever you are in Toronto. Our expert team comes directly to you, saving you from the hassle of travel and time constraints, making it a truly timely process.
All-Encompassing Ceramic Coatings
Our service is designed to give your vehicle comprehensive protection. Our precise application process covers every inch of your vehicle's clear coat, ensuring a thorough and uniform sacrificial layer of ceramic pro top coat.
Competitive Pricing 
We're dedicated to offering superior car detailing services that are both high-quality and affordable. Our competitively priced packages give you access to professional detailing without breaking the bank.
Available Seven Days a Week
We understand that finding time during the week can be challenging. That's why we've made our mobile coating service available seven days a week. Whether it's a weekday or a weekend, we're prepared to accommodate your schedule.
Packages to Suit Your Needs and Budget
We strive to cater to diverse needs and financial considerations. Whether you're seeking basic exterior protection or a comprehensive ceramic pro gold package, we have a wide range of options. Our packages are designed to deliver impressive results without straining your budget.
Safe and Effective Application
At AutoDetailingPro, your vehicle's longevity and aesthetic appeal are our top priority. That's why we employ safe and effective application methods for ceramic coating. Our process not only offers strong protection against environmental hazards but also enhances the look of your vehicle, all while being environmentally conscious.
The Process of Ceramic Coating Application
At AutoDetailingPro, our skilled technicians apply our ceramics solutions following a meticulously curated process. This step-by-step process guarantees that your vehicle receives the highest level of care and protection.
Step 1: Thorough Vehicle Inspection
Our process begins with a detailed inspection of your car surfaces. We examine your car's painted surfaces for any issues, such as scratches, chips, or oxidation. This ensures that we address all potential problems before applying the ceramics.
Step 2: Comprehensive Cleaning
Following the inspection, we meticulously clean the vehicle's surface using various methods, including washing, clay bar treatment, and paint correction. This step ensures the surface is spotlessly clean and free of contaminants that might interfere with the coating's adherence.
Step 3: Application of Ceramic Coating
Once the vehicle is prepared, our certified technicians apply the chosen ceramic products. This application has precise techniques and specialized tools to ensure an even coat that thoroughly protects every part of your car's exterior.
Step 4: Curing Process
After the application, the ceramics need time to cure and bond with the vehicle's surface. This period varies depending on the product used but is essential for maximizing the coating's longevity and effectiveness.
Step 5: Final Inspection
Upon completing the curing process, we perform a final inspection to ensure the coating is flawlessly applied and ready to defend your car against the elements.
Step 6: Client Handover
Finally, we hand the car back to you, now boasting a beautifully glossy finish and armed with superior protection. We will also provide you with aftercare instructions to help you maintain the pristine finish of your newly coated vehicle.
The Value of Professional Application
Entrusting your vehicle's ceramic coatings' process to professionals isn't just about convenience; it's also a smart investment in the longevity and appearance of your automobile. Here's why a professional application holds more value:
Expert Knowledge and Skills
A professional detailer brings to the table a wealth of knowledge about the ceramic coating process, including preparation, application, and curing. This technical expertise, combined with refined skills developed over time, ensures a flawless finish.
Professionals understand how to prevent streaking, unevenness, and missed spots that can occur with DIY applications. They are also adept in performing tasks such as paint correction, which plays a critical role in the effectiveness of the ceramic pro application
High-Quality Materials
Professionals use high-quality, industry-approved ceramic pro coating products. These protective coating products offer superior durability and maximum protection compared to most consumer-grade options available in the market. The result is a longer-lasting and more efficient sacrificial layer for your vehicle's painted surfaces.
Advanced Equipment
Professional detailing companies have access to advanced tools and equipment that aren't typically available to everyday consumers. This equipment allows for more precise and efficient application, ensuring your vehicle gets the most out of the ceramic coating process.
Proper Preparation
Proper preparation of your vehicle's surface is critical to the success of a ceramic coating application. Professionals know how to thoroughly clean and decontaminate the surface, ensuring the coating adheres properly and lasts longer.
Aftercare Advice
Professional detailers can also provide valuable aftercare advice to help you maintain the ceramic coating. They can recommend specific cleaning agents, techniques, and products that will preserve the coating's integrity and keep your vehicle looking its best.
Caring for Your Ceramic Coating
Maintaining your vehicle's ceramic coating isn't just about preserving its lustrous shine—it's also crucial for maximizing the lifespan of the coating. Here's how to ensure your ceramic coating continues to offer optimal protection and visual appeal:
Regular Washing
Even with a ceramic coating, your vehicle will still require regular washing to remove dirt, grime, and contaminants. However, using a pH-neutral, ceramic-coating-safe car wash soap is crucial. Harsh, acidic, or alkaline detergents can degrade the coating over time.
Safe Drying Techniques
Avoid letting your car air dry, as this can lead to water spots which can etch into the ceramic coating. Instead, use a soft, high-quality drying towel or a blower to remove water after washing.
Mindful Cleaning
When cleaning your coated vehicle, be gentle. Use a soft, microfiber mitt for washing and avoid scrubbing or using abrasive tools that could potentially scratch the coating. Remember, the ceramic coating is incredibly thin, and aggressive cleaning could damage it.
Periodic Inspection
Regularly inspect your car's surface for signs of water spots, bird droppings, or other contaminants. These should be removed immediately to prevent them from etching into the coating. For stubborn contaminants, you may need to use detailing clay.
Avoid Automatic Car Washes
Though convenient, automatic car washes can be harsh on ceramic coatings. The brushes used in these facilities can cause fine scratches and degrade the coating over time. Stick to hand washing, where you can control the pressure and the materials that come into contact with the coating.
Annual Maintenance
Consider having your ceramic coating inspected by professionals annually. They can assess the condition of the coating and perform necessary touch-ups or apply a "boost" product to keep the coating performing optimally.
FAQ
We understand that you may have several questions when considering Ceramic Coating for your vehicle. Here, we have compiled and addressed some of the most common queries to help you make an informed decision.
How long does Ceramic Coating last?
The lifespan of a Ceramic Coating largely depends on the specific product used and how well it's maintained. At AutoDetailingPro, our offerings range from 1 year (Ecocoat EZ) to 5 years (Ecocoat Kenzo), providing options to suit varying customer needs.
Is Ceramic Coating better than waxing?
While waxing can offer a degree of shine and protection, it simply doesn't compare with the superior longevity, toughness, and shine provided by ceramic. Moreover, wax needs frequent reapplication, usually every three months, whereas ceramic coating offers years of protection.
Can Ceramic Coating prevent scratches and dings?
While ceramic adds a layer of protection to your car's paint, it is not entirely scratch-proof. The coating can resist minor scratches and offers some degree of protection against light dings but won't safeguard against deeper scratches or significant dents.
Does Ceramic Coating require special maintenance?
Ceramic is relatively easy to maintain. Regular washing with a pH-neutral car wash shampoo and avoiding harsh chemical cleaners is generally sufficient. We provide detailed aftercare instructions to all our clients post-application.
Is the professional application of Ceramic Coating worth it?
Absolutely. Professional application ensures the best results and the most value from your investment. Our certified technicians have the knowledge, skills, and tools necessary for flawless application, guaranteeing a beautiful finish and durable protection.
Can Ceramic Coating be applied to any car?
Yes, ceramic can be applied to new and used cars alike. It provides excellent protection and enhances the visual appeal of any vehicle. However, the car's exterior must be thoroughly prepped and any paint defects corrected before the application.
Testimonials
We average 5 Stars on Facebook & Google. Check out what our clients have to say about our Fresno Ceramic Coating and Paint Protection services.
Nhung Tang
17:41 14 Nov 23
OMG!! Garnnett, the detailer, did such an awesome job detailing the interior of the company truck! The seats, mats and everything was disgusting and I don't know how he got everything looking so brand new! Looks and smells like a brand new truck too! I strongly recommend Auto Detailing Pro!
Tahir Leghari
14:49 25 Oct 23
Victor and his Team did an excellent job on our Rolls Royce Cullinan. He came to our location, explanied the plan of what he is going to do and asked me if I have any questions. His team worked hard on the car and made it like showroon condition.
Paul Serveau
20:41 06 Oct 23
First time user. Easy booking. Arrived on time. Good professional work. I would recommend.
Dmitriy Sokolovskiy
18:26 05 Oct 23
The best services in Canada!
SABBIR AHMED
07:58 04 Aug 23
I received their service today from Garnett Detailer and I took the Showroom Plus package for my Nissan Pathfinder and they really turned my car into a Brand New Car. All I had to do was to select the right package according to my need. Auto Detailing Pro team did the rest. No worries. Thank you Auto Detailing Pro and hope to see you again.
Bashir Suleiman
15:27 06 Jul 23
This guys are exceptionally good,You gonna get value for money. Try them a trial will convince you. Excellent service delivery.
Trevor Johnson
19:16 21 Jun 23
What amazing service by the team at Auto Detailing pro. I don't think my car has ever been this clean. Would highly recommend this business.
Gary wasnick
00:13 20 May 23
They did a great job on my ford f150
OLEKSANDR KOROLENKO
20:52 17 May 23
Amazing work, guys dod a great job
Robert Robert
16:01 17 May 23
The best car detailing in the city!Ill use them all the time
caylabiderman
19:51 10 Apr 23
Victor and Ivan came to my house to detail 2 vehicles, our Honda CRV and Hyundai Genesis. They arrived when they were supposed to arrive and got to work immediately. We are extremely happy with the end results. The cars look like we just picked them up from the showroom. I would definitely use this company again for auto detailing and would also ask for Ivan and Victor again. 10/10!!
David Lavin
12:17 08 Apr 23
This was my second time using Auto Detailing Pro and they left my car spotless. I highly recommend them.
Noam Friedman
00:20 01 Apr 23
Great service highly professional, very friendly staff
Luis Huitzil
21:12 20 Mar 23
Used this company today and i liked It very very much. my 13 years old car looks liked brand new againThank you boys for making my car new again
Alicia Lilly
22:04 13 Mar 23
Absolutely amazing service. My car looked brand new when they were finish with it. Totally recommend for anyone looking to make there car look brand new
Keval Agravat
04:16 05 Dec 22
Mathew spcl
14:34 03 Dec 22
Navey Lidder
23:35 06 Nov 22
Good service. Left satisfied with interior clean.
Dawit Hitamo
16:05 24 Sep 22
Uses them for a first time ever and I am very happy with the results. The guys came on time and did absolutely everything what's included in their showroom package. The booking was super fast and easy and the price is alright compared to others.Will be definitely using auto detailing pro again
Nicole Shnayder
04:07 24 Sep 22
Lisa Moore
02:44 10 Aug 22
I had detailed cleaning for my Infinity EX35 (over 10 years old), yesterday and I cannot believe how beautiful those 2 guys made my car look. The interior looks like brand new. Cannot figure out how they got all the stains off the floor mats. The car looks so shiny and beautiful, inside and out. I highly recommend this service. Especially if your car has aged. Total makeover on mine. She looks 10 years younger :). They even scrubbed the gas and break pedals. Incredible service!
Jerry Greco
00:41 20 Jul 22
Fast friendly and a great jobWill definitely bring my vehicles there again
Mark Vaintroub
21:18 06 Jul 22
I had a gift card from my son for "Showroom +" package. When I came to pick up my car, it as really ready to be displayed in any showroom. Great job! Thanks!
First time using Auto Detailing Pro. I have selected the New Car Plus package. My Car looks amazing. Using the term the owners mentioned "Used car like new" and it is. Thank you for making my car look this amazing. You guys are pros...
Michael Belvedere
23:21 04 Jul 22
Rodents had been nesting under the hood of my electric vehicle and I needed the battery compartment thoroughly cleaned and disinfected. I had already tried one detailer but the rodents returned so I thought to try ADP instead. Alex was so knowledgable and professional. The first thing he requested was photos of the issue. Let's just say my camera was able to view things that I couldn't see looking down on the compartment from above. The damage/nesting was much more extensive than I had realized. Alex (and John) explained the special circumstances (including the fact that my car is an EV) that required my car be hoisted up so the base of my battery compartment could be entirely removed and the job done properly (unlike the first time). It was not inexpensive but this was explained to me at the outset including why they had to charge me more. They are honest and take pride in their work. Thank you Alex and ADP!
Good location nice worker
The owner was so nice and did an amazing job for a great price. They were able to squeeze us in at the last minute when no other places would. The car looked and smelled amazing! It was perfect before selling our car. Thank you so much we will definitely be back!
Ali Hajiyev
16:57 02 Jun 22
I have used service of this company many times and every time they did their job perfectly. You can be sure that they will fulfill everything they promise. For them, it makes no difference whether you arrived in a Lexus LX or a Honda Odyssey. Your car will be treated to the highest standard.
Adelaide Buhr
23:46 30 May 22
Raven & Val did an amazing job! 100% satisfactory gauranteed. Highly recommend them.My car is officially so fresh and so clean clean.
Frances Wang
00:01 19 May 22
Fast and prompt service and did a great job. I spilled some fruit jam on the carpet, I was so pleasantly surprised how clean it is after the cleaning. Highly recommended!
Firind Cox
19:33 12 May 22
Had the full detailing package performed remotely at my house. They arrived on time and did a phenomenal job. Car is 2 years old but looks brand new. The reflection in the paint from the wax is unbelievable. Interior with white leather seats is spotless. This was the best $500 I've ever spent ona detail and will be using them again in the future. Super happy.
Rick Belanger
21:44 04 May 22
Went to Auto Detailing Pro on Steeles Ave.this morning and was truly impressed. (Because I live in a condo I did not want to use the mobile unit.) They cleaned my car inside and out, engine compartment and removed tree gum that had accumulated on the body. I was truly impressed. I seldom go for detailing but seeing how good the car looks I am thinking I might change my mind. The job took several hours, longer than expected, but they did not charge me more than originally agreed. I definitely recommend this place. I don't usually write reviews but I was so impressed I felt I had to.
Wow! Very happy! First time using a mobile service. They were professional & my car looks & smells amazing. Thanks so much.
Johnny Bombacce
19:39 14 Apr 22
Excellent 5 star service always!!!!! Great job guys !!!!
Sean Stenning
18:30 14 Apr 22
Drove to me. Cleaned three cars in my driveway. Very professional. Left no sign of them ever being there in my driveway - beyond the three immaculately cleaned cars. The older car, I don't think has ever been this clean. They all smell great. Well worth the cost. They put the time in and took care of every nook and cranny. Thanks!
Marie Cutler
16:26 09 Apr 22
Alex made great work of my newly acquired, but used, 2018 VW Tiguan. The hood area was a mystery to both of us. The previous owner of the vehicle didn't take great care regarding the exterior. It appears clear coat was applied without first having addressed the swirls and scratches on the hood. Who does that? Next step to consider is either wet sand, repaint or vinyl wrap the hood (ohh, carbon fiber 😁). Anyway, after Alex did his thing, the rest of the vehicle looked great. All I was expecting was to bring the vehicle 'up' a bit. Mission accomplished. Thanks again, Alex! My lady love's VW Golf is next in line for ADP's attention.
I had my car detailed today and Raiven and Val did a fantastic job, the car looks fantastic. Thank you!!!
Areas We Served Ceramic Coating
Ajax
Aurora
Barrie
Bolton
Bradford
Brampton
Concord
Etobicoke
Hamilton
King City
Kleinburg
Maple
Markham
Milton
Mississauga
Newmarket
North York
Oakville
Oshawa
Pickering
Richmond Hill
Scarborough
Thornhill
Unionville
Vaughan
Woodbridge