What Does A Full Car Detail Mean?
Viktor Auto Detailing Pro
What comes to your mind when you think about getting a full car detailing? Is it a trip to the car wash with some extra steps added on, or is it a comprehensive clean and polish that leaves your vehicle looking new? The truth is, there's no one-size-fits-all answer to this question – the type of detail your car needs will depend on its age, condition, and other factors. Let's take a look at what goes into a full car detail and what are the things you expect.
What exactly is a full detail? Many people would answer that question differently. This is because there are many different types of car detailing, and most people don't know the differences between them. A full car detailing service is the most comprehensive type of detailing service for your vehicle. Auto detailing can be broken down into three categories:
Paint Maintenance (Covers Problem Areas)

Stain Removal (Complete Interior Cleaning)

Full Detailing (All-Purpose Cleaning)
This is the highest level of detailing available, so it's often cost-prohibitive for many people. However, car owners who want their car looking its best should get full-detail service every 12 to 24 months.
Read more: How to Remove Tree Sap Damages from Car Paint
What To Expect From a Full Detailing Service?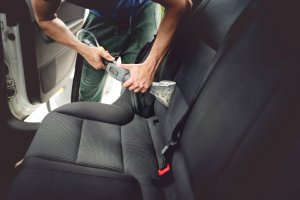 A full detail covers all of the above categories, plus exterior metal polishing. The job includes a complete interior cleaning to remove stains, odors, and dirt from all surfaces. The exterior is polished to remove light swirls and restore gloss before waxing. Some full-detail packages include engine cleaning, too. Here are some other things that a full package typically includes:
1) Exterior wash and dry. In addition to a thorough exterior cleaning, the wheels, wheel wells, and engine bay are cleaned, too.
2) Leather or fabric protection. Most leather seats receive a leather protectant that helps them stay clean longer. Fabric seat materials generally get a fabric protector to resist stains and protect against fading.
3) Dash cleaning. All the dashboard vents, controls, buttons, and switches are cleaned with special cleaners that remove dust, fingerprints, and other soils. A dash mat is often used to keep these areas free of scratches.
4) Wheel cleaning. The wheels are covered with a degreaser before being washed and polished.
5) Engine cleaning. The engine bay is sprayed with a degreaser before being washed, dried, and protected with the appropriate products according to the type of engine. Some detailers will let you watch them clean your car or at least tell you what they are doing as they go through the steps of detailing your vehicle.
Read more: How often should a car be detailed?
Professional Car Detailing Services Toronto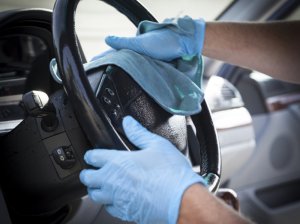 Some people do their detailing work. That can take numerous hours and a lot of effort, depending on how dirty your vehicle is and your cleaning equipment. But you will be able to get your car detailed for a much lower price than you would pay at a professional detailing business.
However, there are many reasons why you should have your car professionally detailed instead of doing it yourself.
Car detailing is a detailed process
This may seem obvious, but detailing is not merely the vacuuming and coating of your car in quick detailer spray. Detailing is a lot more than this; it takes many hours to accomplish the perfect result (which really does look better than if you'd done it yourself). In addition, car people spend hours making sure every surface is perfectly clean, this includes the engine compartment and wheel wells, both of which usually rack up copious amounts of brake dust.
At Auto Detailing Pro, we know that your paint begins to oxidize as soon as you start driving (that's why all new cars look so shiny), and it takes a skilled person with lots of experience to know how to stop oxidation before it starts. The right kind of polish needs to be applied in the right way, usually very delicately by hand; this takes years of experience, even for the best detailers.
Car detailing needs expensive equipment
Nowadays, you can buy all kinds of machinery that will help with your DIY activities, but one thing you shouldn't even attempt yourself at is car detailing. You see, some tools are used in car detailing that can't be found anywhere else except for professional car detailers.
One example of this is the rotary buffer which is used on almost every area of a vehicle to give it a high shine finish. Rotary buffers spin at speeds between 3,000-12,000 rpm, and you certainly don't want to get anywhere near this kind of speed with your hands. Rotary buffers are not only dangerous for the user but also have the potential to ruin paint that wasn't in perfect condition beforehand.
Car detailing can take days (up to two weeks) to finish
Our professional car detailing guys make a living out of detailing cars and we know exactly what to do and how long it will take. So, you can imagine that the end result is worth every penny, as our professional detailers rarely miss their target with a perfect finish.
Professional car detailing is more than just a shiny paint job
Car detailing isn't as simple as you think; even the smallest details such as wheel alignment and tire rotation need to be done properly by someone with years of experience under their belts. And because every part of the car needs to have perfect attention, this will mean taking the car apart at certain stages. Even our best professional detailers spend hours getting every part of the car perfect, which is why it's imperative to take your vehicle to someone who knows their stuff.
If you're looking for a reliable and local car detailing service in Toronto, look no further than our team at Auto detailing Pro. We have years of experience providing top-quality detailing services to car owners across the city. Our detailers are passionate about cars and love giving them the TLC they deserve. Contact us today to schedule your appointment!