Do I Need To Clean Out My Car Before Detailing?
Viktor Auto Detailing Pro
The short answer is "Yes". You always want to make sure your car is as clean as possible before getting it detailed.
A cleanout of a car means going through every square inch, every nook, and cranny of the interior and cleaning it out. It is important because many people don't realize that cars are like homes. They get dirty and dusty over time. Things accumulate in places you can't see, and it's not always convenient to get them out. For example, car keys seem to end up everywhere, but when trying to find the one you need, it's underneath some old food or clothing under a seat. You could even have trash left in your car from months ago but didn't see it because you are not looking down at the bottom of your seats.
Additionally, many cars are coming out of accidents today and may have interior parts that need fixing or replacing. For example, an airbag that has been deployed will let out a powder that is not very family-friendly. So, if you don't clean it properly, it could get into the rest of your vehicle. The same thing can happen with leather interiors, especially when heated because it could burn your skin. Having a cleanout is like the first step of car detailing because it helps to make sure that when you put in hours and days of work on a vehicle, you won't see anything wrong with the result.
Read more: How to keep the car clean
Car Detailing Requirements Prior To Taking Your Car In For A Professional Detail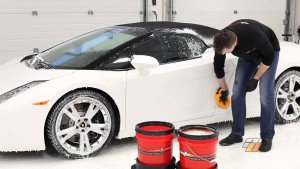 So, you finally feel like your car is dirty enough for a professional detail? Well, maybe not just yet. If you want to get the most out of your detailing investment, some simple things need to be done before even showing up at the shop. Some are quick and easy, while others require a bit more effort on your part. The more you get done before the detail, the better off you and your car will be in the end.
Carpets and Upholstery
For the carpets, vacuum as much as you can from the back seat, trunk, and nooks and crannies. If necessary, remove the seats and vacuum underneath them and in between the folds of fabric. Use fabric cleaner and a brush attachment on your vacuum for the upholstery. Clean every surface of your car, inside and out.
Engine Compartment
If you've got an old vehicle with dirty engine parts or greasy feet, one needs to get in there and vacuum, wipe or blow out the dirt. At the very least, use an air compressor with a nozzle to blow everything clean. Remove any liquid spills like spilled engine oil, radiator fluid, or battery acid before they damage your mats. You can skip this step for engines that are detailed regularly unless you find some mud inside.
In the Cabinets
Remove anything stored in your trunk or rear storage area and clean all the cabinets thoroughly with a mild cleaner. You'll be surprised how much dirt comes out of the tiny crevices in your trunk when you give them a good cleaning. Don't forget to wipe out the glove box too!
Cup Holders
Use a straw or rag to clean each cup holder thoroughly with any mild cleaner. You can even use an old toothbrush on the crevices.
Exterior Tires and Mats
If it's a rubber floor mat, you'll want to shampoo it with any good car wash shampoo. Use your garden hose or pressure washer to spray it clean, and then let it dry in the sun before putting it back in your car. If you have white walls, remove all the dirt from between the treads using a wire brush or old toothbrush.
Insides of Windows
Even if your glass is clean, the insides of the doors and windows often have a layer of dust from being closed up. Using a microfiber cloth first and a utility dryer squeegee last, you'll want to thoroughly clean all interior glass surfaces before moving on to other steps.
Exterior Windows
Use your exterior cleaner and follow up with a wet microfiber or squeegee. If you're doing the exterior and interior, you should switch to your tire foam first, followed by your rinse solution for those surfaces that are safe to spray, then dry them off with a squeegee or microfiber towel.
Hard Surfaces
You'll go back and forth between your microfiber cloth for wet surfaces, terry cloths or towels for dry surfaces, and spray bottles to keep things rinsed off. Try to work away from the center of the vehicle working over one section at a time. If you have an enclosed trailer or van, do this first before cleaning out the inside.
So, if you're looking to detail your car and want it to look as good as new, make sure to clean before the service. Not only will this save you time and money in the long run, but it'll also give you a better overall detailing experience. Take it from our experts at Auto Detailing Pro – your one-stop shop for professional auto detailing in Toronto & GTA!