What Is Exterior Detailing?
Sanjeev
Exterior detailing is the process of cleaning and restoring all exterior surfaces of a vehicle to achieve a show-ready finish.
A vehicle's paint can have many imperfections, including minor scratches, water spots, and paint chips. In addition, severely oxidized paint is usually a result of exposure to environmental elements such as acid rain, bird droppings, and direct sunlight. Therefore, cleaning paint is a crucial first step to any exterior detailing service. Cleaning restores a vehicle's paintwork by removing the dirt, oxidation, and other accumulated contaminants from its surface.
Exterior auto detailing is typically separated into different stages:
Preparation

: Washing and rinsing the vehicle's exterior and applying a clay bar if needed.  This step aims to remove any contaminants that may be lingering on the surface.  Using a wax or paint sealant will aid in the bonding process.
Rinsing

: Using a hose nozzle that produces a water jet with moderate force, spray the car's exterior in a back and forth motion with moderate pressure.  Aim the nozzle about an inch from the surface to cause only light beading.
Drying

: Using a clean microfiber waffle weave drying towel, dry the car's exterior by patting it until no water remains.  Make sure not to wipe or rub roughly against any painted surfaces, or you could scratch them and cause damage.
Pre-Treatment

: Applying an auto paint cleaner that will aid in removing stubborn grease and grime from the car's surface.  Paint cleaners are typically very acidic and will eat through most contaminants.
Cleaning

: Using a pH-neutral auto shampoo, apply foam to the car's exterior with a low pile detailing mitt or microfiber applicator pad.  After about 2 minutes of working the product into the paint, rinse off with high-pressure water, allow to haze, and then remove with a clean microfiber towel.
Polishing

: Applying an all-in-one polish containing cleaners and polishes in one product.  Allow the polish to dry until no residue remains on the surface.
Protection

: Applying an auto wax, sealant, or coating to protect the car's finish from environmental contaminants and UV rays.  Read product labels for specific instructions before application.
Read more: How to Protect Your Car Paint from The Sun
Benefits of Exterior Detailing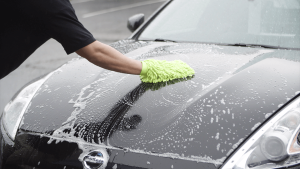 Why would someone want to go through the effort of spending hours outside of their vehicle doing some detailing? What are the benefits of exterior auto detailing?
We need to tell you that there really isn't a wrong way and right way on how you detail your car (or truck, or SUV). People like different things, and there really isn't much concrete evidence on why you shouldn't do something rather than do it. The key to exterior detailing is taking care of the outside of your vehicle. There are several benefits to exterior auto detailing, including:
 

Add shine and luster to your paint

 

Remove swirl marks, light scratches, oxidation, water spots, etc.

 

Remove light to moderate dirt and mud

 

Shine up chrome, rubber, plastic, etc.
If you do this regularly (every 3-6 months), these benefits can be even more significant when it comes time for you to sell or trade in your vehicle.
Read more: Best paint protection for black cars
What Are Some Tips On Exterior Detailing?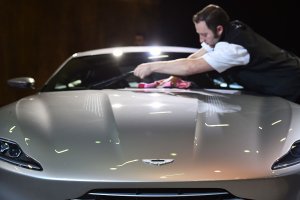 There are several tips when it comes to detailing your car's exterior! The first thing you're going to want to do is thoroughly wash and dry your vehicle. Make sure you have a solid cleaning product that won't harm the car's surface. It also wouldn't be a bad idea to grab an old towel or two. You don't just want to use one for the initial washing because you will need it to dry off the car.
This is also a good time to inspect your vehicle. Make sure there aren't any major scratches, dings or dents in the paintwork and that the tires are still in good shape. If you find anything wrong with either of these, we suggest getting it fixed as soon as possible.
After you dry off your car (this can take some time, especially if you like to do this by hand) it's time for the waxing process! We recommend only using one kind of wax at a time so that you can tell which one works best on your paint. Then, apply it with an applicator or a microfiber towel and make sure to get a nice thin coat on the surface of your car.
Once you have waxed every section of your vehicle, allow it about an hour to dry up before going out in the sun again. This will eliminate any streaks that might form from waxing and give you a clean exterior that is ready for the next step!
After you are done with the exterior detailing process, take it out for a drive. It will allow all of the wax residue to dry up properly and give your vehicle some exercise after being cooped up in a garage or outside for hours.
Don't have time to do exterior detailing? Don't worry! Auto detailing Pro is just around the corner. Schedule your appointment today!